Current News and updates from Christ Community Church
May 7, 2020 - Re-Opening of our Church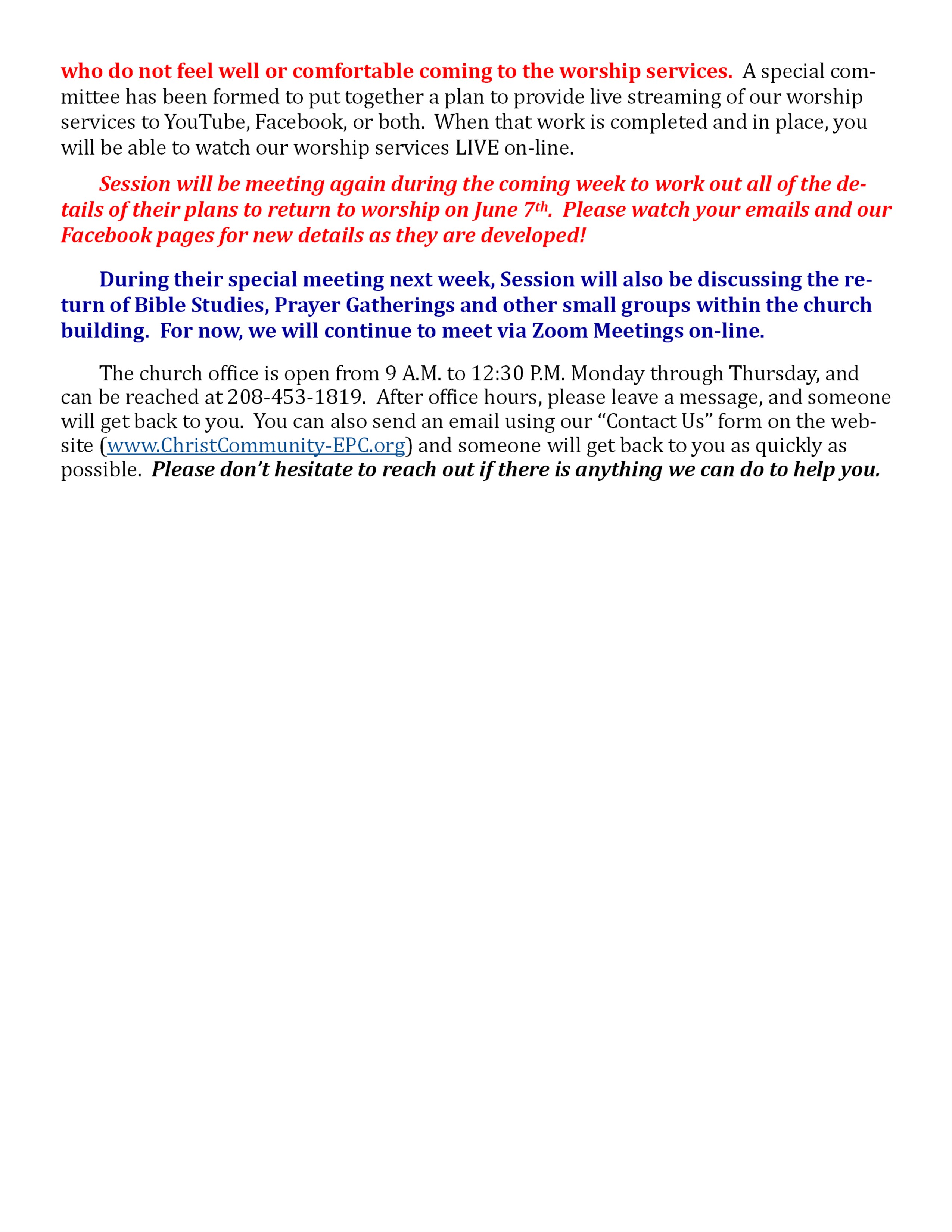 March 19, 2020 -- Along with our two Facebook pages (Christ Community - EPC Caldwell (www.Facebook.com/ChristCommuniityEPC), our member site on Facebook [Christ Community Church - EPC (Treasure Valley)], this site, emails and mailings to our church family and a Calling Tree, we hope to keep you fully informed about what is going on at Christ Community Church during this time where we are doing our part to help stop the spread of COVID-19 throughout our nation.
Since Session has suspended all "in-person" activities at the church, they are working on various platforms to allow us to continue to share the Word of God, to meet virtually for Bible studies, small groups and Sunday School, and to hold other meetings and "gatherings." As these programs develop, we will share information with everyone via the methods outlined above.
We are gathering other resources that you will be able to access and use for your own personal study and journey at home on your computer, iPad, smart phone, etc. These resources will be posted under the "Ministries" tab on the drop down menu under "Christian Resources." You'll find instructions about how to access those resources there, as well.
Additionally, Pastor Dave will be recording devotions and prayer a couple times a week that we will share on the Facebook pages and on this site under the "Events" tab in the sub-menu, "Videos:. We hope that you will spend some time listening to these, sharing the Word at home, and in prayer.
4/4/2020 - Password now required for zoom meetings
Due to increased security measures imposed by Zoom meetings, and in order to prevent cyber-attacks on our meetings, passwords will now be required for all on-line meetings.
For Adult Sunday School, Men's Prayer Breakfast, Bible Studies other Small Groups who have the Meeting ID of 208 453 1800, you'll need to enter the Password that was emailed to you on Saturday afternoon,
April 4, 2020. If you did not receive the Password and would like to have it, please send us a note using the form under the "Contact Us" tab on this website.
We will not be posting the Password on the website or Facebook pages in association with those meetings. You can still go to the website Calendar for the link to get in to those meetings, but you will be asked for the Password after you click on the link and before you are admitted into the meeting.
Future "private meetings" – i.e. Session, Deacons, etc. will have a Password included with the link that you'll need to use. These meetings are held "by invitation only" and those who need to attend them will be sent an email for each meeting.
3/24/2020 - Signing up for "zoom" on-line meetings / gatherings
During this crisis, meetings of the church will be held on Zoom on-line using your PC, laptop, or Smart Phone. In order to participate in a meeting, you must first download "Zoom Client" on your device. This process differs between PC and Apple products.
If you have an Apple Phone or I-Pad, you'll need to open the Aps Store and download the "Zoom Cloud Meetings" app. There is no charge for this download. Once installed, you'll have a Zoom icon somewhere among the many icons you use to open programs. We'll cover how you join a meeting a little later in this article.
If you have a PC, go to your web browser (Chrome, Firefox, etc.) and enter http://zoom.us in the URL box. When the page loads, you'll need to scroll all the way to the bottom of the page where you'll see columns of links. Click on "Meeting Client" in the "Download" column. Download the app and then install it. Once that is completed, you'll be ready to join a meeting!
Note: You don't need to load Zoom on your laptop, PC or phone to watch videos that are linked on our Facebook pages, on our website, or sent to you by email. Zoom is our on-line meeting platform that can be used for committee meetings, Bible studies, Sunday School classes, Small Groups, etc. Each meeting will have a different meeting ID and password that will be issued in the form of an invitation or posted on Facebook or an informational email.
Then, on your device, you will click on the link that is provided to you in the meeting notice. It might look something like this: https://zoom.us/j/190611316?pwd=ams0VGYvN3lUNlJaWnJmVjNLNGQvUT09. That link will take you directly to the meeting. You will need a Password to enter meetings.It will ask you if you want to join with or without video. Then, it will ask you to confirm your joining with computer audio. Then, you're on! If you place your mouse pointer at the bottom of the video screen (on a PC), a menu appears that allows you to mute yourself, see who the other participants are, and even click "Chat" that allows you to type in questions or comments visible to everyone in the meeting. It is also there that you can leave the meeting.
It's a little different with an Apple. After clicking on the link, it will ask you for the meeting password.Then, you will be asked if you want to "Join with Video" or without video. -- click "Join with Video." Then, you will be asked if you want to call using Internet Audio or Dial In. Click on "Call Using Internet Audio." You're on! The pop-up menu (mentioned for PCs) is found at the top of the screen on an Apple instead of at the bottom.
Enjoy your meeting and the on-line fellowship!
3/22/2020 - make sure we have current "contact information"

If you have not received emails from us over the last few days, it may be because your email server (cableone, msn, aol, gmail, yahoo, etc.) may be sending them to your "junk" or "spam" box. Please check there first. If you find them there, please move them to your "inbox" and mark the sender as "safe" so you can receive future emails.
If you don't find them there, we probably don't have a correct email address for you, or you don't have email. If you DO have email and have not been receiving anything from us, please send your correct email address to me (Kent.Marmon@ChristCommunity-EPC.org) or send us a note on the form found under "Contact Us" tab on this site.
While you're at it, please be sure to include your mailing address and phone number(s) so that we can make sure that the information we have for you is correct.
3/22/2020 - Adult Sunday School Class Notes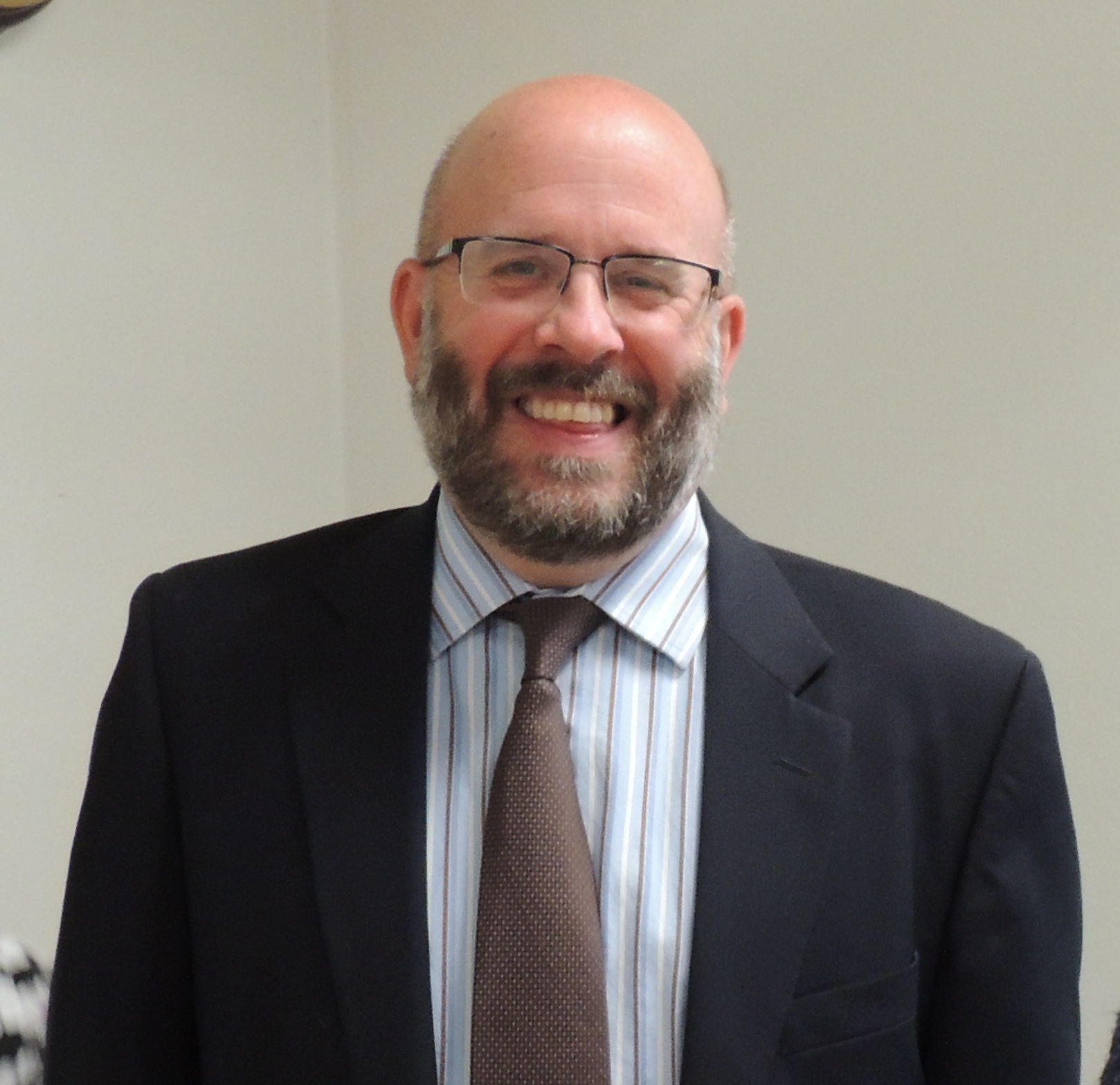 There were some questions during Sunday School, I wanted to address- but I was muted. I think Ed Huston enjoyed that power...
;-). Here is a 12 min video- I hope brings some confidence and clarity to a couple questions which came up during our study of Westminster's first article on scripture.
View Pastor Dave's remarks here: